Invite from Thorsten !
Two Spirit Weekend
Liebe 2 Spirit Brüder und Schwestern,
Nach dem wundervollen Start mit Wolf Martinez geht es gleich weiter mit einem deutschen Heiler und Medizin Mann.
15.9 Anfang um 14h (Samstag) bis
16.9 Mittags
Wir treffen uns nur 24 Stunden aber ich verspreche Euch das es eine sehr tiefe Reise zu Euch selber wird. Es wird wieder eine Schwitzhütte geben und noch mehr aus der Riesen Werkzeugkiste von Daniel Dabbars. Ich kenne Daniel fast 10 Jahre und er war der erste von dem ich über die 2 Spirit Traditionen hörte, seit vielen Jahren leitet er Schwitzhütten und lernte aus vielen Indigenen Traditionen das Heilwissen.
Wir haben insgesamt 20 Plätze , also 16 zur Vergabe an Euch. Die Unterbringung ist sehr einfach in einer wunderschönen Jurte oder in Daniels Wohnzimmer. Ihr müßt nur Schlafsäcke, Kissen und eventuell Isomatten mitbringen, alles andere ist da. Ich war schon oft an Daniels Ort und nur einfach dort zu sein ist schon ein heilsames Retreat.
Über das ganze Jahr kommen dort unzählige Menschen vorbei die Heilung suchen oder Rituale leiten aus Nepal oder Mexico, dieser Ort und Daniel sind eine Schatzkiste.Wir starten mit einem Redekreis und Daniels Wissen über die 2 Spirits, er wird auch etwas über die Zeitqualität erzählen, er hat ein Tiefes Wissen über den Maya Kalender und teilt es auch gerne. Dann gibt es die Schwitzhütte (Inipi) und noch eine Überraschung aus der Riesen Heiler Kiste von Daniel.
Daniel arbeitet nur auf Spendenbasis und er lebt dabei in Fülle, das sehe ich immer wieder.
Ihr könnt geben was immer ihr möchtet und könnt, mein Gefühl ist das die kleinste Spende 70€ sein sollte (oder viel mehr), doch Daniel läßt es offen 😉
Hier ein paar Worte von Daniel an Euch:
Ihr lieben Two spirits,
in diesen Zeiten, die uns noch mehr als sonst, auffordern in unserer Mitte zu sein, wollen wir unseren ganz besonderen Spirit feiern.
In der Tradition der Twospirit Peoples den Twistethair, wie wir Homos
von den Nativen Kulturen der Nord und Südamerikanischen Ureinwohner genannt werden.
Feiern wir unser Schwitzhüttenritual.
Bei den Indigenen Kulturen erfahren wir Homosexuelle eine ganz besondere Wertschätzung. Wir haben einen hoch geachteten Stellenwert in der Gemeinschaft.
In bunten Worten werden wir Euch von dieser Kultur berichten.
Uns gemeinsam einschwinngen in unsere ureigene Towspirit People Medicine.
Das folgende Schwitzhütten Fest wird uns Kraft geben, unsere Seelen zu heilen, von all den schmerzlichen Erfahrungen, der Ablehnung und den selbst kreierten Geschichten.
Die Qualität im Maya Kalender:
"Die Kraft der laufenden Krieger Welle" hilft uns loszulassen.
Uns selbst zu ermächtigen, in die eigene Kraft zu kommen, unser Potenzial ganz anzunehmen.
Mitakue o yasin
Mögen alles Wesen Glücklich sein.
Mit diesem Gebot, das zu gleich das größte Gebet ist,
fängt unsere Zeremonie an und hört sie auf.
In diesem Geiste, sei Willkommen Bruder auf unserem schönen Platz.
Bring bitte die Bereitschaft in der Natur zu sein mit.
Um wieder selbst in deine eigene Natur zu kommen.
Daniel
http://ursinia.de/
With a nice Video of Daniel and Information about his place and Events
Facebook:
Daniel Dabbars
Der Ort ist auf der schwäbischen Alb, in der Nähe von Stuttgart.
Adresse: Fuchsweg 24
72818 Trochtelfingen
Ich freue mich sehr auf Euch
THORsten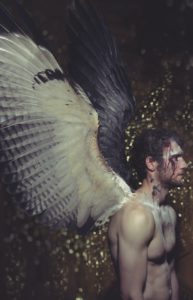 Dear brothers and Sisters,
after the amazing start of our two Spirit Circle i have another opportunity for you to meet a two Spirited Medicine Man and healer.The Date is
15.9 Start at 14h (Saturday) untill
16.9 around noon.We meet only 24 hrs but it is worth it.There will be a sweat Lodge on Saturday evening and something else that Daniel will provide, he has a huge Toolbox of things to share.I know Daniel almost 10 years and he was the first one that told me about the 2 Spirit traditions.This time we have 20 places including Daniel and his Partner so I offer you 16 Places.We will sleep very easy inside a beautiful Jurte, Daniels House and some Tents, you only need to bring sleeping bags and cushios, everything else is there.The place is amazing and all year many people pass by his place to find healing or to give and receive Seminars, he invites Shamans from Nepal and Mexico and many other traditions, this place is a true treasure box :-)))Usually we start the weekend with a sharing and Daniel will talk about the time quality of the day (he is very deep into the wisdom of the Mayan Calender) and then he will share about his 2 spirit wisdom and Stories.After that we have the Inipi and other surprises :-))))
Daniel works only on Donation Base, whatever he does and i can see that he lives in abundance this way.
So give whatever you feel like for this 24 hrs, my feeling is at least 70€ (or much more) but Daniel leaves that up to you.
I have been in his place several times and only to be there is already a retreat.
I will attach some pictures.
Here a little invitation Text by Daniel Dabbars:
Dear 2 Spirits,
in these times it is more important then ever before to be in our Center, we are coming together to celebrate our very special Spirit.
Some traditions called us two Spirit, others called us Twistedhair, we always had our Place in all the indigenous cultures in North and South america.
Lets celebrate our very own and 2 Spirited Sweat Lodge Ritual (Inipi).
Homosexual men have a special place