The Island
With the first flowering of gay tourism on Gran Canaria in the 1980s, Maspalomas experienced another building boom, having already been developed for the masses from the early 1970s. It became a gay holiday paradise. The face of the place itself should be mercifully ignored for this. Beyond aesthetics or even nobility, shopping centres line up with holiday home developments half-heartedly trimmed to be picturesque. The village-within-a-village principle features stylistic elements from holiday regions all over the world! But only as ornaments, as frills. The multi-storey concrete hotel buildings at Playa de Ingles promise nothing at all. They were built before the boutique hotel decade and are far too ordinary to pass for brutalist. Enriched with an ageing garden gnome idyll that can be found on every street corner here, it is just as unappealing as most campsites in Germany. Or: reassuringly banal. Most of the buildings are functionally ugly. If you're looking for gay aesthetics, you'd better go to the beach. 

As the uncrowned head, the Yumbo Centre is the heart of gay fun and celebration on Gran Canaria; long since legendary but still terribly boring. Bravely, it continues to be in a notoriously good mood. Dressed up and tipsy, it solicits customers with garish posters and neon letters. Here, too, one encounters this peculiar small-minded flair: it's a bit run-down and small-scale; everything is the same as it has been for years: with trash shops pretending to be glamorous, happy hours and drag queen shows. There is a mini-golf course facing the street. Only it enjoys constant popularity with tourists these days. A truly harmless and above all completely asexual pleasure for everyone. In the evening, selfies are taken under artificial palm trees in the floodlights of the course. Look, I was on holiday! Although it's almost offensive to fly on holiday now.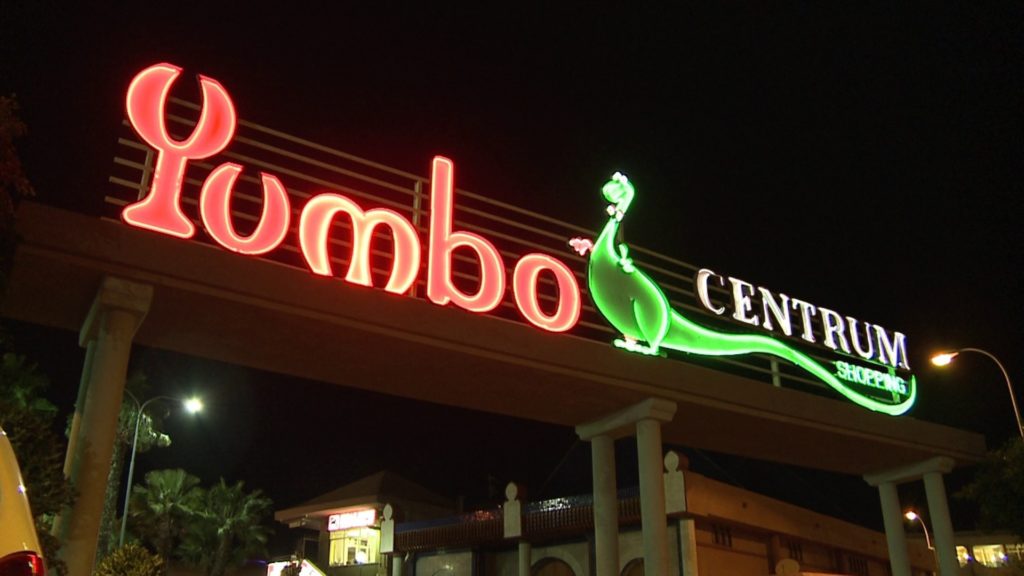 In these restricted, distance and modesty demanding pandemic times, the dinosaur behind has fully fallen into a slumber. Only a few men stray inside the mall with searching eyes. Often they have brought their own beer from the nearest supermarket. Party mood ultra light. It is unmistakable: The good old 'Yumbo Centre' seems frozen, despite the summer temperatures, despite the promises of small amorous adventures. Will it ever come back to life?
by Gerd Fechner