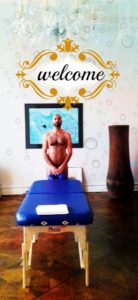 How did you grow into that calling?
I came from the world of conflict management and mediation while I was working a lot to make people understand and connect to each other. In this journey I felt that there was one very important element that is missing, that is our body. Due to my positive attitude about sex – I just love sex – I realised that the way to solve problems is through connecting with your body and with your desires. In this journey of exploring, I found out about tantra and I made my journey together with Gay Love Spirit to learn about my body and desires. I learned the importance of intimacy in the gay world and how this is at the centre of our suffering as gay men.
I think my first motivation to start giving sessions was to give pleasure and intimacy. Slowly I learned the healing element of this work. And in the last two years I'm studying osteopathy and combining tantra with that. I give 'Sensual osteopathy'. I'm learning about emotional osteopathy.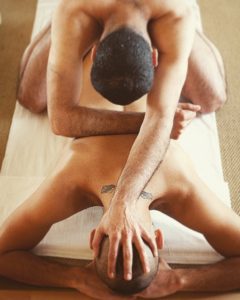 What happens on an average session? What are peoples expectations?
There are two kind of men that come to the private sessions. Some connect erotic massage to sex work. They are surprised to get more than what they expected. The other part is looking for spiritual healing.
We usually decide on an intention and I communicate through touch in order to fulfill their desires. The first challenge is for the person to connect with his desires and to feel that he is deserved to be touched and loved, The next step is to be able to listen to the other body and their wishes and needs. And when this happens a world of opportunites opens up to this individual and he can experience what he really, express and fulfill his desires. About half of the men come quite regularly and enjoy it.