When my partner and I went to a sex club in the big sexy city of Berlin, we went with mixed feelings. I mean, with excitement for me and fear from his side. We are not young and are not party people anymore, we mostly work, sleep and get drunk with one or two beers. Although we had a lot of sex and drugs in our past, we had very few long relationships. So going together to a dark room was certainly a risk. I felt the need to say that it's time, 'we need new experiences, I need some sleaziness in our long term relationship, i need to go back to my favorite sex bar, it was my second home for a while'.

The fear was focused around our relationship and how can we enjoy different men together and alone. Nonetheless, the gay scene in the big cities changed lately – much more drugs, much more barebacking. We are not as young and gorgeous as we used to be (WE STILL ARE- so we tell each other while putting all the anti-aging creams we can get a hold of!).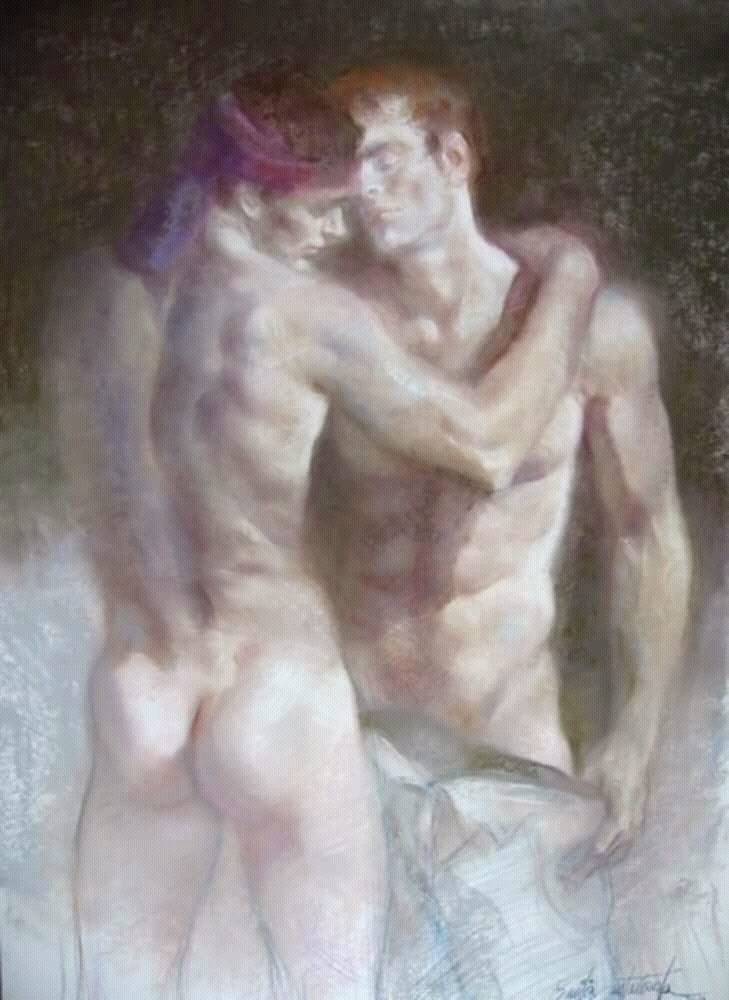 But the STI question is always there. Being non-European gay means you know people who still die from AIDS. There are places where it's still not easy or cheap to get the pill, but here it got normalized like a chronic disease.
Moreover, we read in the gay news about Chem Sex. Actually, come to think of it, we also have friends that are into that, but we never talk too much about this, or rather, they prefer to talk less about it. Some speed, some Tina, G, some pills. They all say how amazing, long and without borders the sex is, and how hard it is to go back to non-Chem Sex.
Nevertheless, putting aside our worries, we entered the bar, ordered some drinks, commented about the guys and almost danced.
The night was wonderful (actually two nights…) We met sexy, nice people with whom we chatted about religion, art and how to survive in the big city. While jerking off, we invited strangers to kiss us and you know… fingers, condoms, intimacy. Everything was there including smiles and laughs.
We drank much more than we are used to, we kissed people that had a lot of drugs in their body. We started to feel a bit high with no guilt nor worries and hopefully with no hangover the day after. Finally, we played with more men than we could count.
Straight people, women and some gays think this is insane. Not getting to know whom you are having sex with. How can you not create a solid acquaintance? Moreover, in a big dark space with no intimacy?
I have to say that for me it didn't feel like that, i was creating intimacy with my partners. This dark guy that came towards me, trying to guess if I'm interested, we looked at each other as i grabbed him and slowly pulled him towards us, kissing him was a way to invite him to the action. He was sweet, we felt each other in all our bodies and we touch everywhere.
I looked at his eyes (in the dark) and he looked at mine and we communicated non verbally, something happened there. There was another connection to the guy on my left side. He was playing with my nipples and giving love to my body, listening to my limits, attentive to whether i moaned or peeved.
NO; not everything was so beautiful there, like the guy that left us angrily and non verbally after hearing the triggering word; Condom. Some were too fucked up, with some we just didn't connect. But the atmosphere was friendly, mostly in silence and people communicated only when things were too ambiguous. One guy started to get dressed in the middle, i looked surprised because we had a nice connection. He looked at me and said 'too many people for me, sorry'.