"How much time in a week do you spend taking care of your body?" that's the question I once asked a client. His answer was embarrassed, confused and almost shameful. He replied: "It's true that I should do a bit of sport". I was surprised by his answer. For him, as for many men, taking care of his body means doing physical activity or paying attention to food. On the other hand, for a woman, we rather expect her to take care of her body according to aesthetic aspects (massage, skin care, nail care, haircut etc.).
To take care of my body represents for me a large field of practices and consciousness so vast that the simple answer of my client made me think. During the two months of staying home for epidemiologic reasons, I choose to pay more attention to my body with consciousness, to honor my sacred body, this body that supported me for 50 years, to express all my gratitude to my body. So then, I transformed my daily practices of hygiene into an experience of honoring my sacred body, my temple. Every two days, I spent 2 hours in the bathroom in slow practices with conscious breath: present with the fact that I was expressing all my gratitude to my body. In Tantra, there is the ritual of Jupiter's Bath that represents that same idea of honoring the other one's sacred body.
I remember other testimonies of men about how they look at their bodies, how they take care of them. And then I started to imagine afternoons with friends during which we took care of each other's bodies in all the dimensions that this ritual could represent. One of the fun, intimate and practical experiences would be, for those who already have this practice in their lives, to shave their testicles or anus, to take care of their pubic fleece. This experience would undoubtedly create an unprecedented intimacy between two men.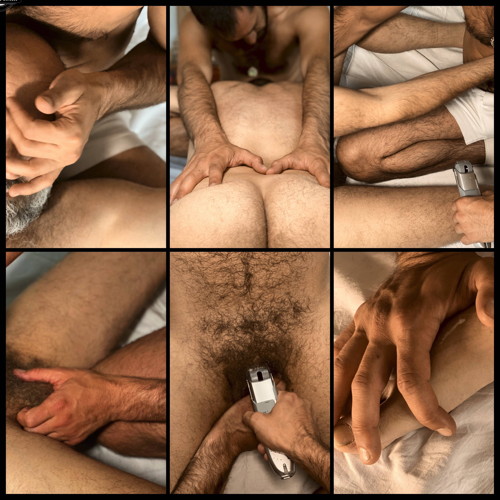 This workshop is an invitation to an initiatory journey of sharing the sacred intimacy, a ritual to honor the vehicle of one's soul that is the body. It is also a rite of passage in the awareness of one's body and its infinite possibilities of feeling. This workshop offers you the opportunity to surrender yourself completely to receiving, to surrender yourself completely to giving, and, thus, to exchange a continuous flow in the relationship to your body, and to the other.
This workshop will take place in 3 stages: it will begin with a conversation in which everyone can express all the representations he has of the care they take of his body, his projections, his fantasies in the absence of any judgment, his own experience, the meaning that each person gives to this practice as well in its relational, sacred and spiritual dimensions. The facilitator would also share his or her own experience of sharing intimate moments of caring for the body in a spirit of camaraderie.
In a second step, participants are invited to explore one or more of the practices in pairs. Body care that is usually practiced alone in the privacy of one's own bathroom or by another in a beauty salon setting for example, will be explored here in the context of two friends, two beings who care for each other's bodies. They will be able to touch on the sharing of their intimacy on different planes of consciousness, in the spirit of camaraderie or in spiritual devotion, in the sacred, in the deep connection possible with another person whose body we care for.
Thirdly, feedback is offered so that each person can put into words his or her awareness in the relationship with his or her body, with the other, with the senses and with pleasure.
Each participant is invited to bring his/her usual toiletries: electric razor or hand razor for those who want to explore hair care in the sex or anus area, shower gel, body oil or lotion, intimate enema instrument, skin scrub, hair, skin, nail care instrument, toothbrushes and toothpaste, cotton swabs etc…
The whole trip is done with respect for everyone, in trust. A love lounge will be proposed for participants wishing to take a break during the session.
---
This is a new workshop offered by Joao for Summer Evolution 2020. To check out the program (which is still evolving) and book your ticket, head to the official website. In case you have any questions, you can get in touch with us at info@gaylovespirit.org.