During all the years we've been active, many people happened to find love or some kind of partnership through our events, and while this is not our main goal, we can't help but feel happy when it happens. That's why we decided to bring you a cute series of posts where we interview some of these people, and ask them about their experience.
This is the first part of the interview with Dror, a dear friend and ex-collaborator of GLS. Let's hear what he had to say about finding love in Summer Eros…
---
Nico: How did you and your partner meet? And how long have you been together for?
Dror: We met exactly five years ago, we will celebrate our anniversary soon. It was the GayLoveSpirit Summer Eros retreat of 2016, in Spitzmühle. And since then we are together…
N: Did you long for a relationship – or has it just happened?
D: No not at all, because I had a relationship! I was already since 5 years with Mathias, my boyfriend. We had an open relationship and I used to go every year to Summer Eros, and every year I would fall in love, but after it was finished I knew that it was only for the week and I would go back to my routine. In this retreat though, I met Stefano on the second day and since then we never separated. We were 24 hours a day together and it was so intense that after one week it was enough to establish that it was a really big love. Then he went back to Jerusalem and we were far from each other but we kept meeting whenever we could, so I decided to check how things would go.
I was having a relationship with both Mathias and Stefano at the same time. Slowly the relationship with my ex started deteriorating, so after one year we finally separated and since then me and Stefano are together, just the two of us. And it's very intense, even today. It was the best match, from the beginning it was clear that we fit each other perfectly.
N: Tell us about the workshop where you met. How was the general atmosphere? Did you feel instantly attracted to him, and were you together right away?
D: For me the Summer Eros week was the best one of the whole year. It was a week where the combination of beautiful people (inside and out), great food, being naked, being touched, spirituality and good weather, made me feel really euphoric, like I was a flower blooming. This week gave me energy for the whole year. And this is what helped me to fall in love each time: I opened myself as if there were no conditions, I wasn't afraid of getting hurt and flirting with people, I just let things come in.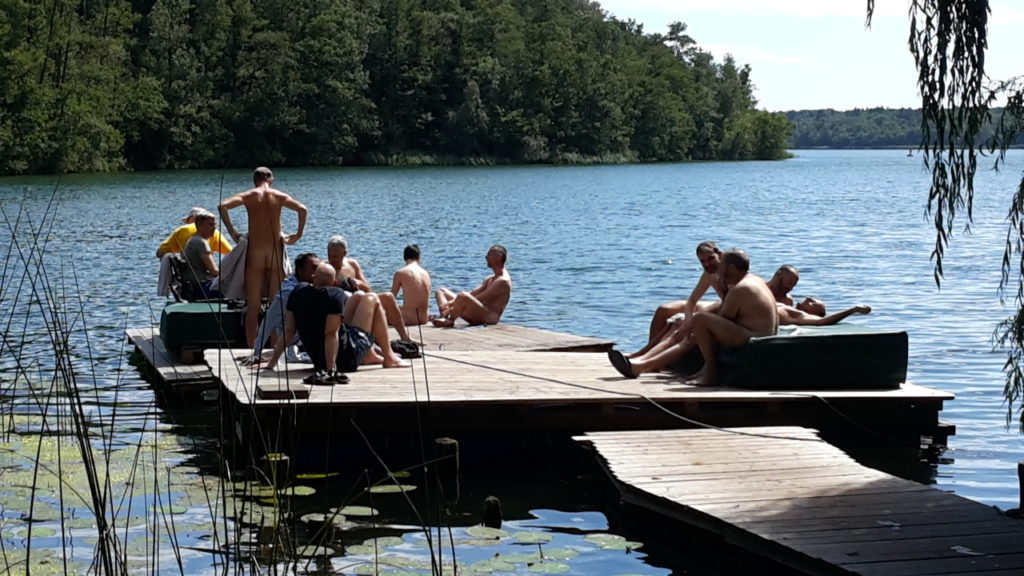 With Stefano it was also about luck. You usually don't get to choose your partners for the workshops but on the second day we were having a session with Moxe, we were sitting next to each other and Moxe said "ok, choose a partner!", and we just chose each other. Sometimes I wonder what would have happened if I had not chose him… We had a chance to get to know each other from the beginning and it was attraction from the first time we put our hands on the other's body. It was amazing.
N: Most of us meet partners through dating apps or in bars/clubs. Can you elaborate on the differences between meeting in these places versus in an environment such as the GLS workshops?
D: It's the difference between deep and shallow! In the apps you usually decide to meet someone according to how they look like, and with that you immediately filter many candidates who could fit you but you didn't choose them because you preferred someone with a six pack or a big dick. And in GLS workshops you have the option to get to know better the people and the attraction that develops is real attraction, not only physical. Sometimes it also happens in the workshops that during the first evening you see 3/4 guys whom you like and others whom you think you'd never touch. But after a nice session, or a conversation, or a swim in the lake naked, you discover other parts of them and you can see their beauty which can transform into attraction. And the sex, the kissing, the intimacy is much deeper because you know each other. Comparing to Grindr, where you meet someone and you kiss immediately, and have sex immediately, you don't even have time to get to know them, that is a big big difference.
Another big difference is that the retreat is not only about touching, but is also about the spiritual background, the relaxation, being naked in nature, the quiet atmosphere that opens you mentally to have contact with others, and this cannot happen in the apps or in the city.
continues in part 2
---
If Dror stimulated your curiosity for joining Summer Eros, there are still places available for this year's retreat. Head on to our official website to read more details, or send us an email at info@gaylovespirit.org if you have any questions.
And no, we won't give refunds if you can't find a perfect love like Dror has! ?