Can you tell us a bit about the session you gave as introduction to the 'We LOVE Tantra' seminar in Munich?
Thorsten: It was the first time I could bring all my sound equipment, because I was with the car. I tend to always use the train when traveling in Europe, for environmental reasons, but then I can only bring a little bit of my equipment.
I started with an intense 1-hour sound journey for the group. That way everyone could arrive fully at the workshop and leave their daily lives behind. Everybody was lying down with the eyes closed, to allow a real emersion into other realms. I combine both generate frequencies for the group as give individual impulses.
The healing happens through the inner journey supported by the sounds and vibrations. The body knows intuitively what to pick up. I also give individual cleansing with sound tools like fire gong and the shaman brush, which is made of leaves from the waira. That is a plant from the Amazon rainforest, where I got part of my training. Everyone really loved the journey, it was the perfect start for the weekend. Sometimes it became really wild: Hanns, my partner for the workshop, said at times he did not know where he was.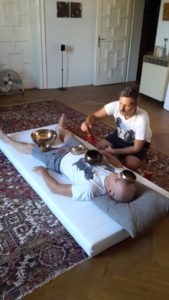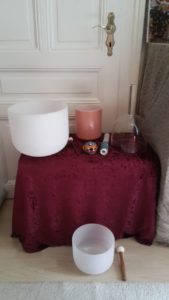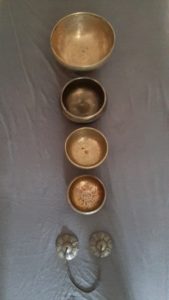 On the last morning of the workshop, all asked to have another sound-healing session. With the second one, I used a different setting, with everyone sitting. It was a different experience. What I channel with my sessions depends on the group dynamics and what the group really needs at that very moment. Both journeys lasted around one hour, although time is irrelevant at that moment. In the second part of the session it's really not me anymore. Something takes over and I make space for that healing miracle. I just become a tool myself, channeling positive vibrations while playing with the sound tools. At times I'm like a crazy dervish, at times full of Krishna.. whatever wants to show itself at that time. I'm singing mantras, shouting, humming.. . Men really loved both of the sessions. Besides on We LOVE Tantra, I also offer private sessions in Frankfurt, where I have all my sound instruments and other healing tools at hand.