Thorsten and Hanns started off a new series of We-Love-Tantra Workshops in Munich
Our idea was to set off a complete different and new format of a tantric workshop in a very private setting. It was very clear that we wanted to create a new "community" workshop with elements in it, that we are not usually (can) offer.
I believe we created a unique weekend with loving men. So we did start 2017 with the first We-Love-Tantra workshop.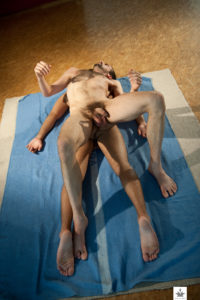 It was always magic for us to see the group arriving and within minutes to create something really special. The men just arrived and you had the feeling we know each other for years. The trust, the respect, the excitement to work for the weekend together and the love – I can not describe it, you have to feel it.
Of course every group is different, every weekend is different, but the magic is always the same.
So Thorsten and I have a plan, but we also take care of the groups desires for this moment. We can easily change exercises around and offer different things out of our "treasure box of tantra" as needed. This all depends on the group energy and the groups interest.
What we always do, is to have a tantric cooking session all together on Saturday night. This is one of my favourite group experience. Everybody is helping, either in the kitchen, or to set a nice tantric table for us.
I can remember once we had an Austrian, lovely man in the group (he is also a beautiful chef!!) and he decided to cook an original Austrian "Apfelstrudel" for us. We eat 6 kg of apples that night. Everybody was busy peeling and cutting apples before dinner. We couldn't really stop eating this delicious Austrian speciality. This was truly magic. And that night was very long and I will never forget this group community experience.
In the group exercises we put in sessions of various kind. We love this kind of well mix of meditation, body work, massage work, Tao Kung Fu and other sexy sessions, that allow us all to connect and to have a intense and very intimate time together.
We love to see you in one of our next We-Love-Tantra workshops!