Hey there!
I'd like to introduce you to the 4-day Summer Evolution Festival designed especially for people like you – GBTQ+ men. The festival takes place in two beautiful locations in Germany: in the north-east at the picturesque Bötzsee (near Berlin) and in the south-west at a powerful place in the Swabian Alb.
What is Summer Evolution Festival?
The central element of this festival is the power of creative community. Here you have the unique opportunity to experience many inspiring offerings from trainers with different backgrounds. There is yoga, bodywork, massage, workshops in eros, tantra, shamanism, systemic work, dance, creative workshops, expression, voice and sound, sometimes drawing, non-verbal communication…
The day always starts with a one-hour yoga session in the morning, followed by two to three three-hour workshops spread throughout the day. Often two or three workshops take place in parallel, so you can choose from a wide range.
The whole thing is embedded in a social programme that includes daily meetings in small groups of about 6-8 people. Here you can exchange your impressions, share feelings and experience support. These groups give you support and a feeling of community that is often missing at other comparable festivals. There you are often overwhelmed by many impressions and swim on the surface. With us, however, you can dive deep. At the same time, it's also relaxed, sweet, charming and honest – it's just fun!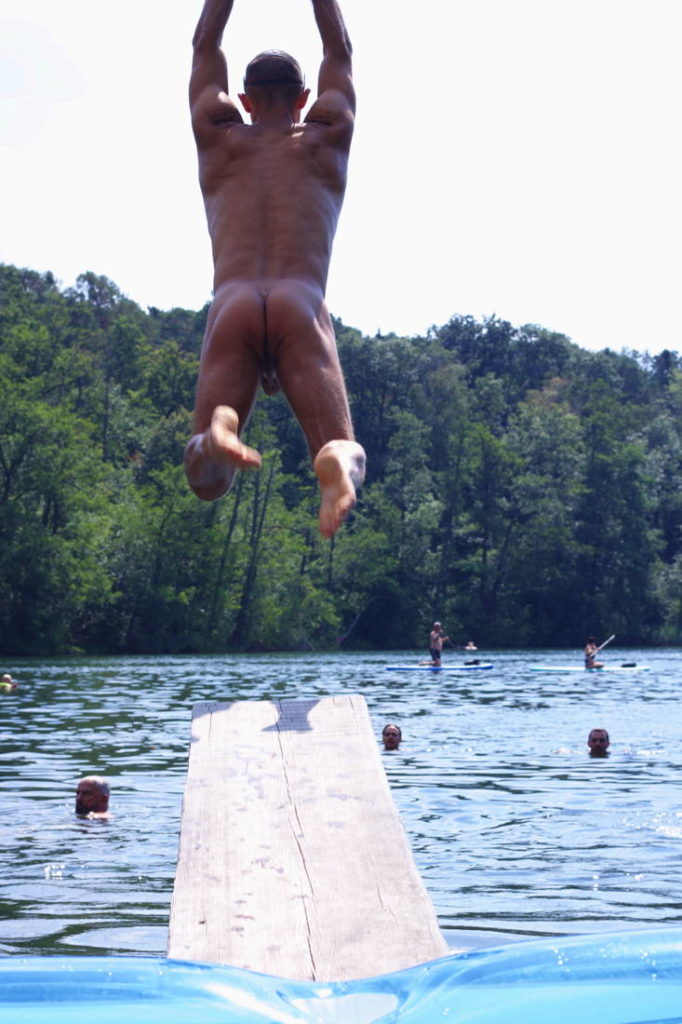 If you still feel like meeting men in a playful and sensual way after a wonderful day, the temple is open to you later in the evening, where you will meet like-minded men. Now you can communicate non-verbally and try out everything you learned during the day.
We go deep, but also like to keep it fun!
Of course, a festival also means partying. With us, however, this happens without drugs and alcohol, but with full awareness. You can enjoy the beauty of the lake, the forest and the campfire, dance to the music and meet other GBTQ+ men. Here you can build new friendships and expand your spiritual, loving network. You will experience these 4 days with open eyes and an open heart.
The 4-day Summer Evolution Festival offers you a unique opportunity to connect with other men in a loving and supportive environment. It is a time of growth, healing and expression. Join us for an unforgettable time of community, inspiration and joy!
We look forward to welcoming you to the Summer Evolution Festival!
Warmest regards,
The Summer Evolution Festival Team
---
Check out also the post about Summer Eros Community. A 6 day retreat taking place right after Summer Evolution Spitzmühle, in the same venue by the lake!